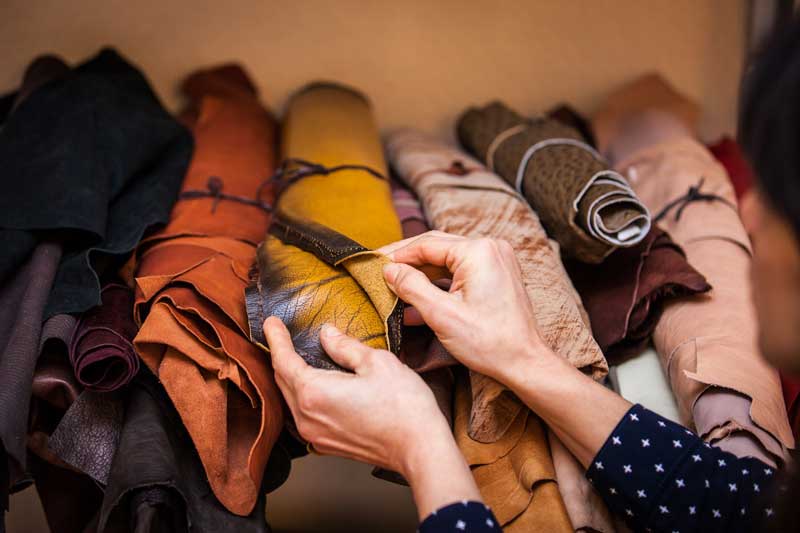 Materials & Manufacturing
We are determined to make products that make a positive impact - not just the
end users and the environment, but also on the quality of life of the workers who made them.
Just as important as the materials are the hands that make our products. We work closely with small companies in Germany, Spain and Portugal who are experts in their field.

Our textiles are made in Italy and Portugal, our leather wallets in Spain and Berlin.
Our signature leather straps are made in a factory in north-west Germany that employs people with disabilities.

All of our workshops stand for transparency and fair working conditions. We visit each company regularly and develop a close personal relationship with each one. This involvement in the manufacture of our products ensures integrity at every stage of the process.
RECYCLED LEATHER
We only use leftover leather and natural materials and work with local manufacturers. This helps us run an eco-friendly business with minimal waste and less impact on our surroundings.
REGENERATED YARN
This yarn is spun from the leftovers of new clothing left over from the manufacture of clothing. The leftovers are mixed to create new colors. The fibre, mainly cotton, is then refined and a small amount of a "sliver fibre" (acrylic, polyester, viscose) is spun into the yarn to add strength, durability and elasticity to the beautiful, soft yarn.

All GILLIO, CANNOLI and ALBA collections are knitted from regenerated (recycled) yarn.
100% COTTON
Because we prefer to work with natural materials, the main component of our fabrics is cotton, which is breathable, durable, warm and easy to handle.

The elegant SUIT collection is woven from 100% cotton yarn.
Stärkung der sozialen Verantwortung:
Im Mittelpunkt unserer Produktion steht ein ausgeprägtes Gefühl für soziale Verantwortung. Unsere unverwechselbaren Upcycling-Lederbänder werden von einer gemeinnützigen Organisation hergestellt, die Menschen mit Behinderungen unterstützt.